100% italian rice
from seed to grain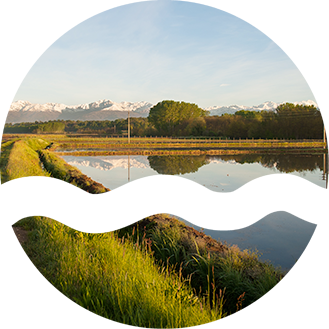 Acqua e Sole is our rice.
Ours from the seed to the moment you pick it up in your hands. Which is precisely what makes it so special. Because it means the whole production process (selecting certified seeds, growing the rice, processing it and distributing it) is controlled directly by us. So you can be sure that the rice that you serve at mealtimes is traceable from start to finish.
We sow it

Our rice is grown from certified seeds and is sown exclusively in the 350 hectares around our farm, An Fed Agri. The plants grow here, right before our eyes, using farming methods that take environmental sustainability and biodiversity very seriously.
We make it grow All our rice seedlings are born and grow here, before our eyes, with farming methods that provide exceptional attention to eco-sustainability and biodiversity.
We harvest it

When the plant is ripe, harvesting begins with the help of state-of-the-art technology that is mindful of tradition and the rice field environment.
We process it

After harvesting the rice, we process it at our farm using cutting-edge machinery in the most environmentally friendly way we know, before drying it with our modern systems powered by solar electricity.
We package it

Our packs are our clothes. We have chosen them personally so that they reflect the very high quality of our product, as well as the extreme simplicity of the ingredients: sun and water.
We sell it

At the moment our rice is available only in Italy. Sign up to receive our newsletter and find out when it will be available in other countries.
We eat it

It's the plain and simple truth: Acqua e Sole is the rice we eat here at our farm, An Fed Agri. We grow it with love and care, precisely because it's the rice we serve at our own table.
And we hope you will

Why choose a rice you don't know anything about, now that you've found one that you can be sure is checked in every step of production, storage and selling? You're more than welcome to come and take a look for yourselves: you'll find us at 17, Via San Rocco in Lumellogno